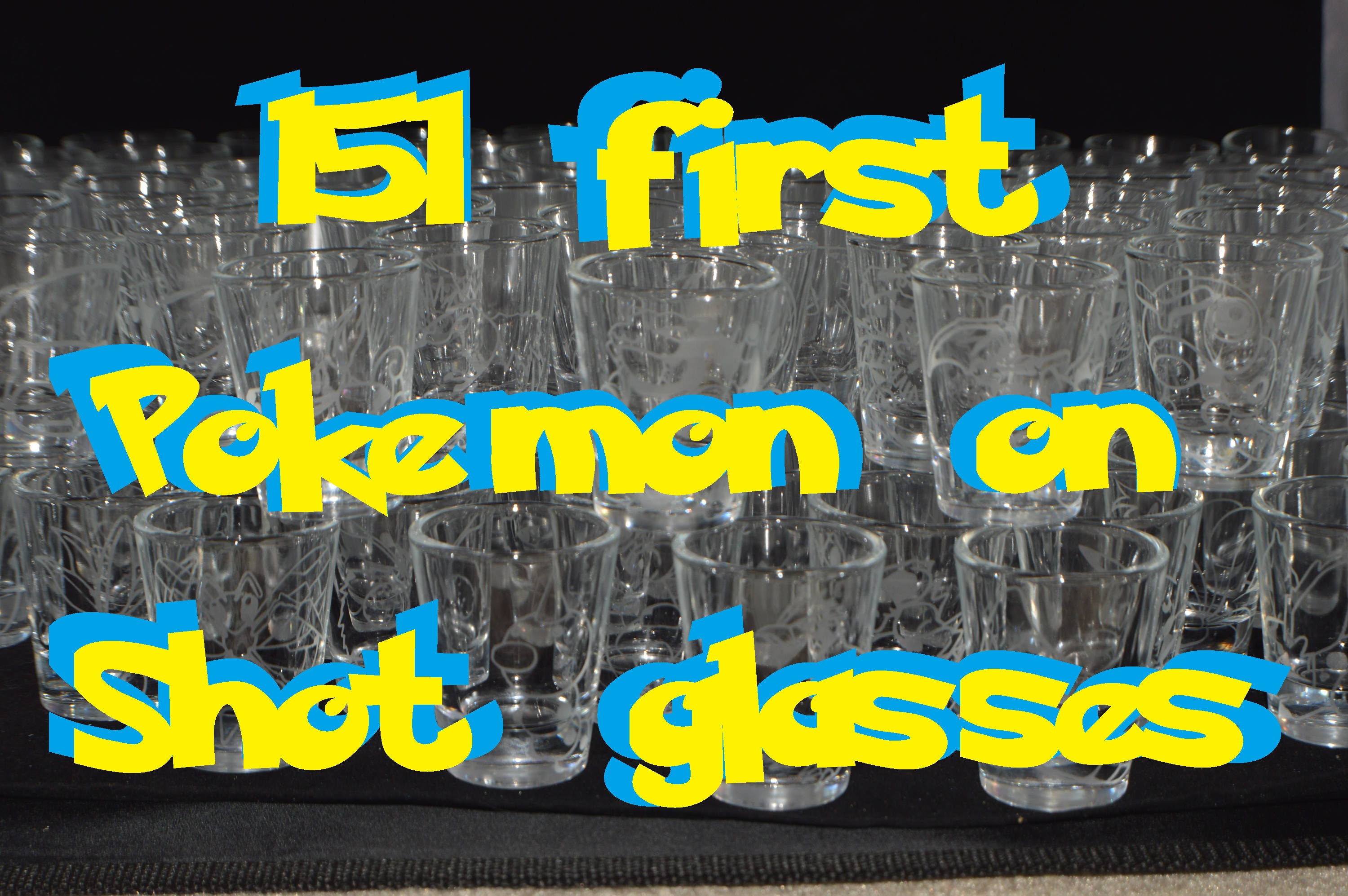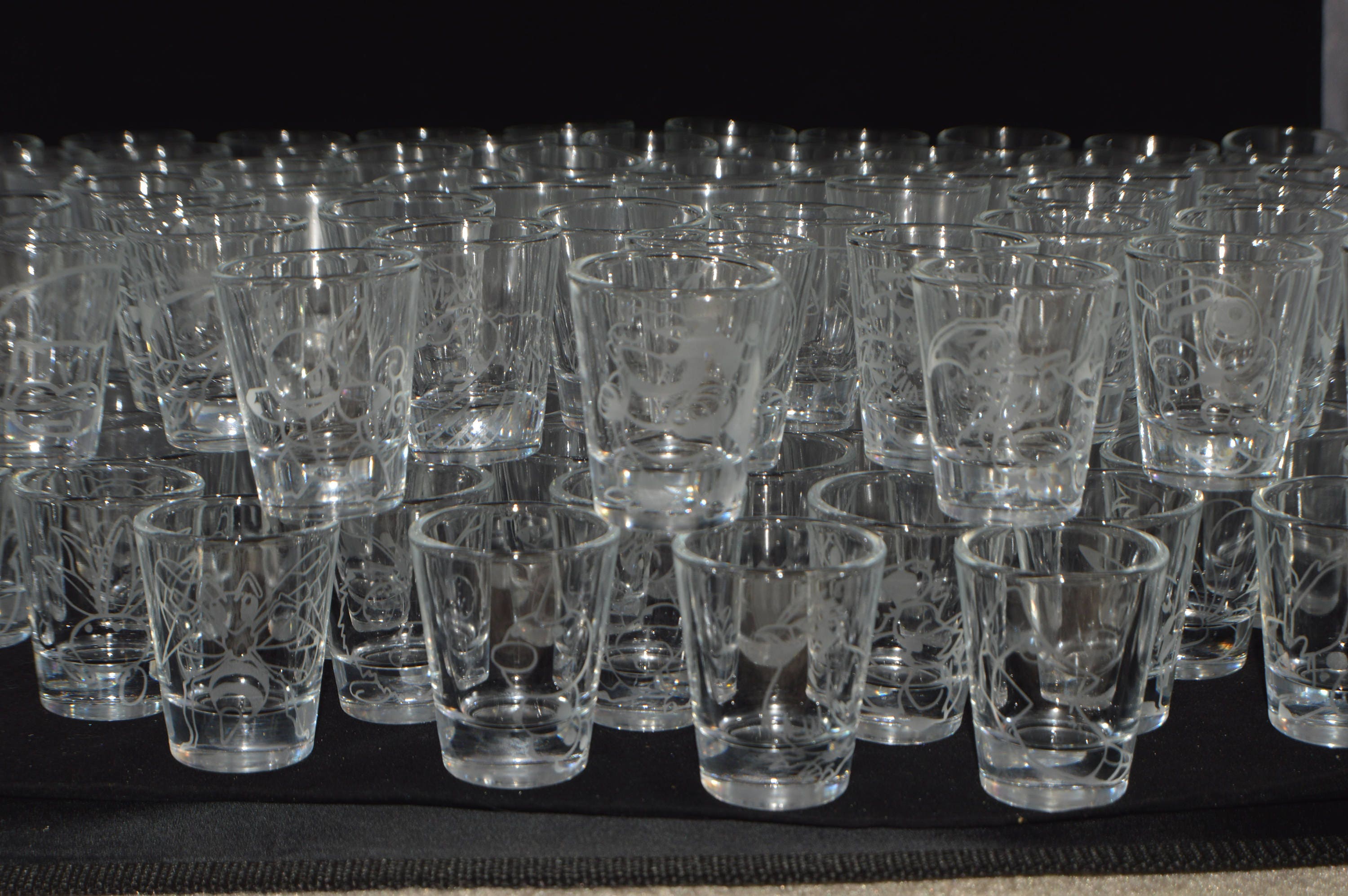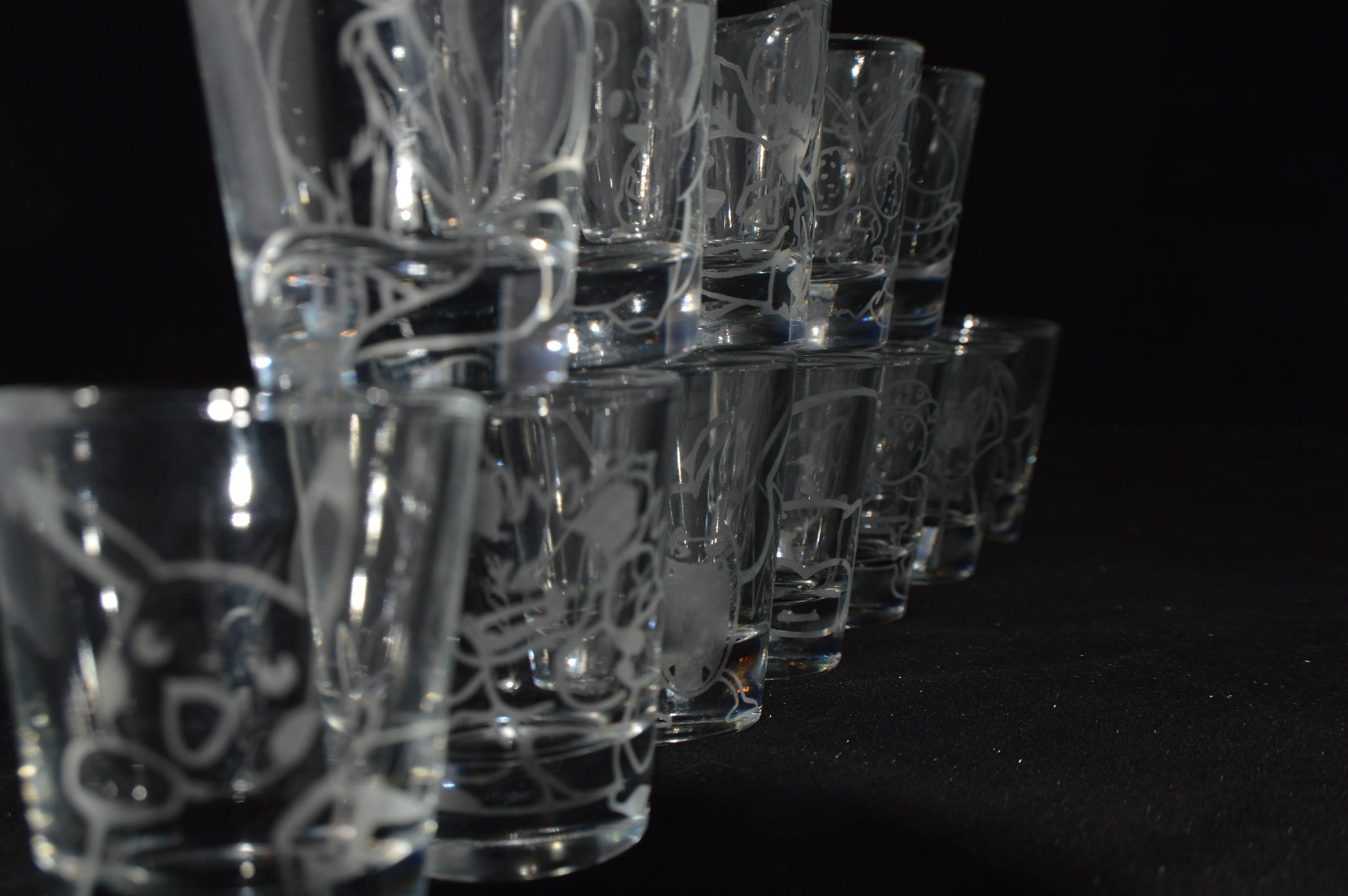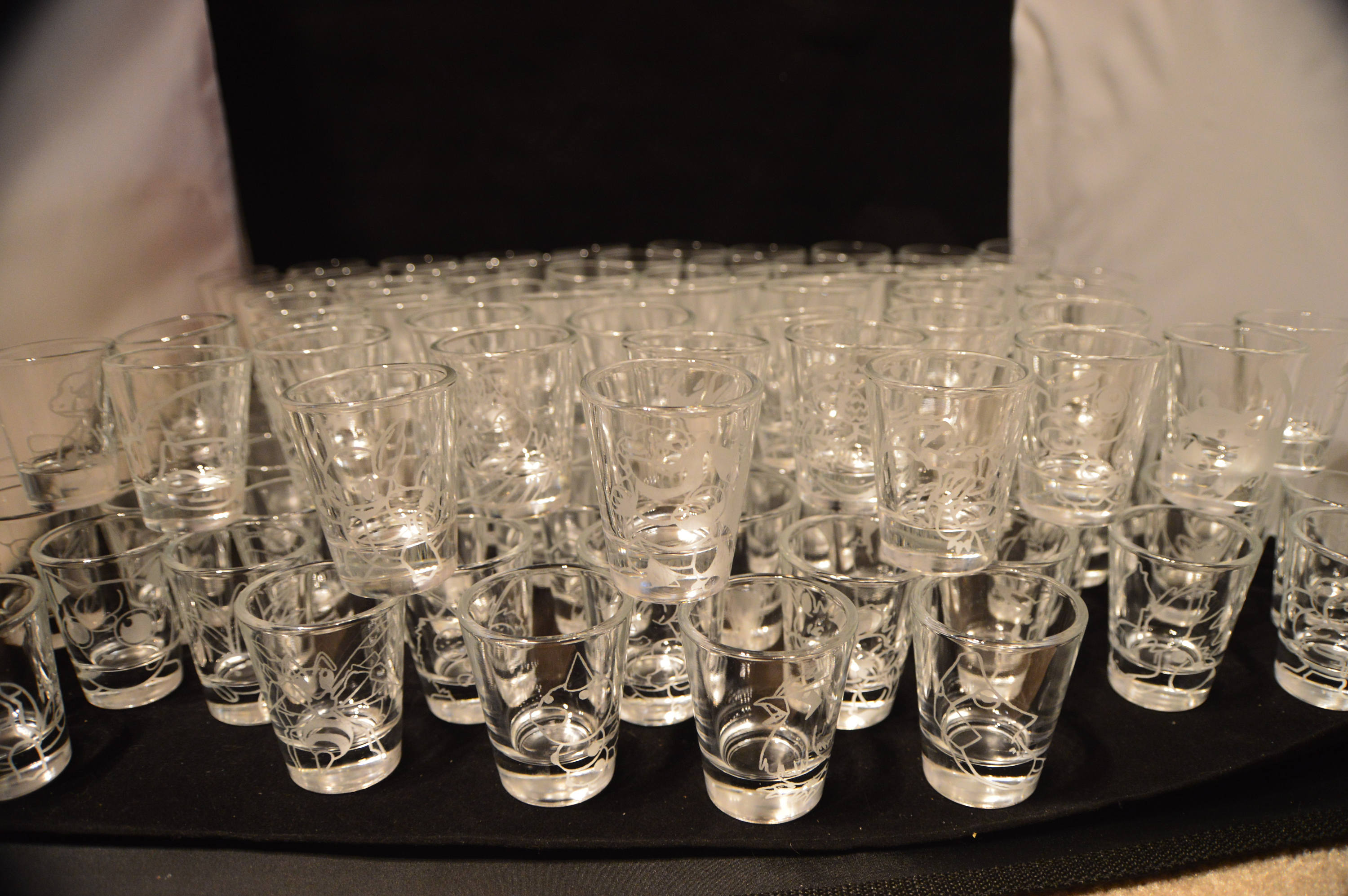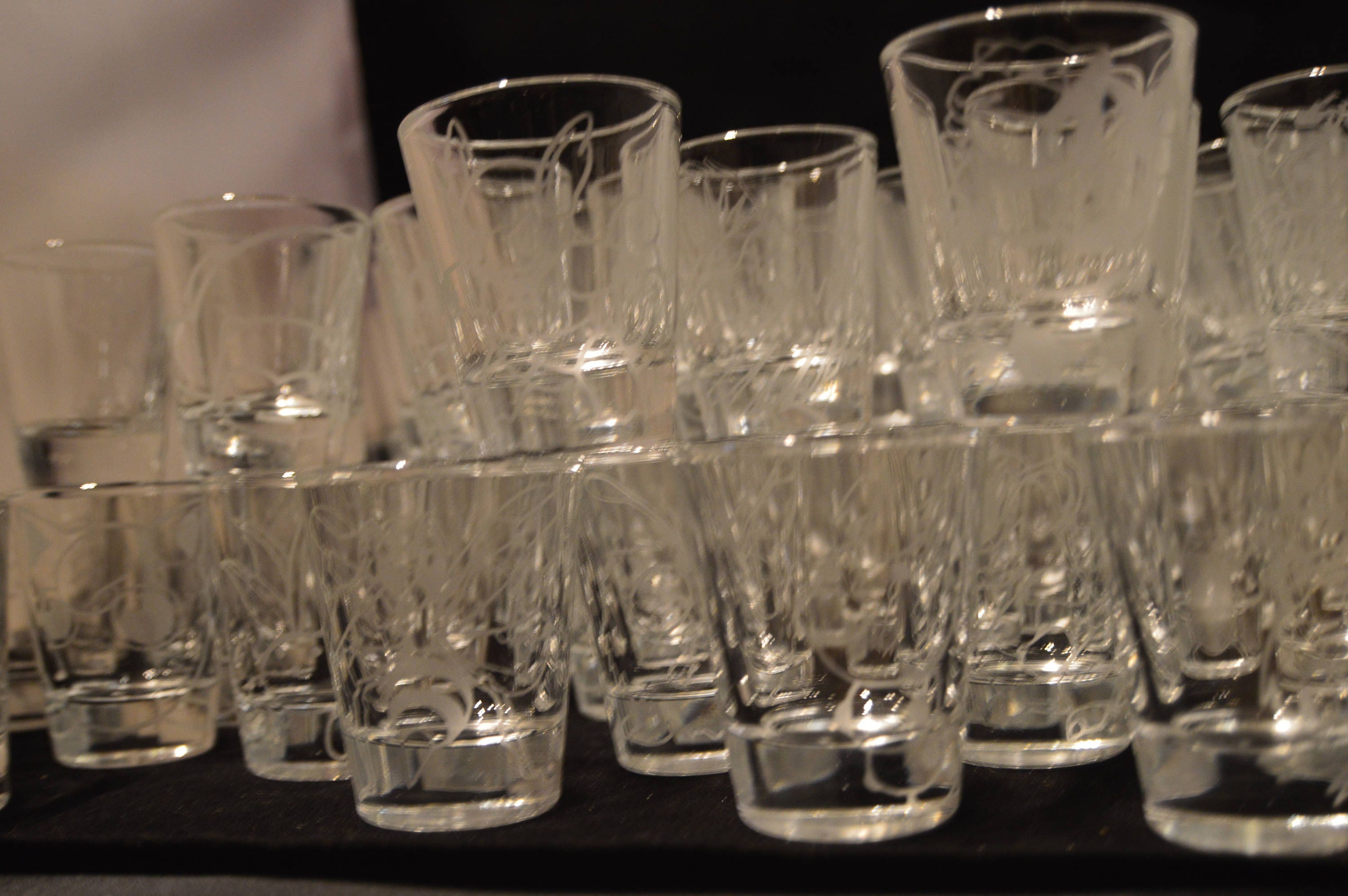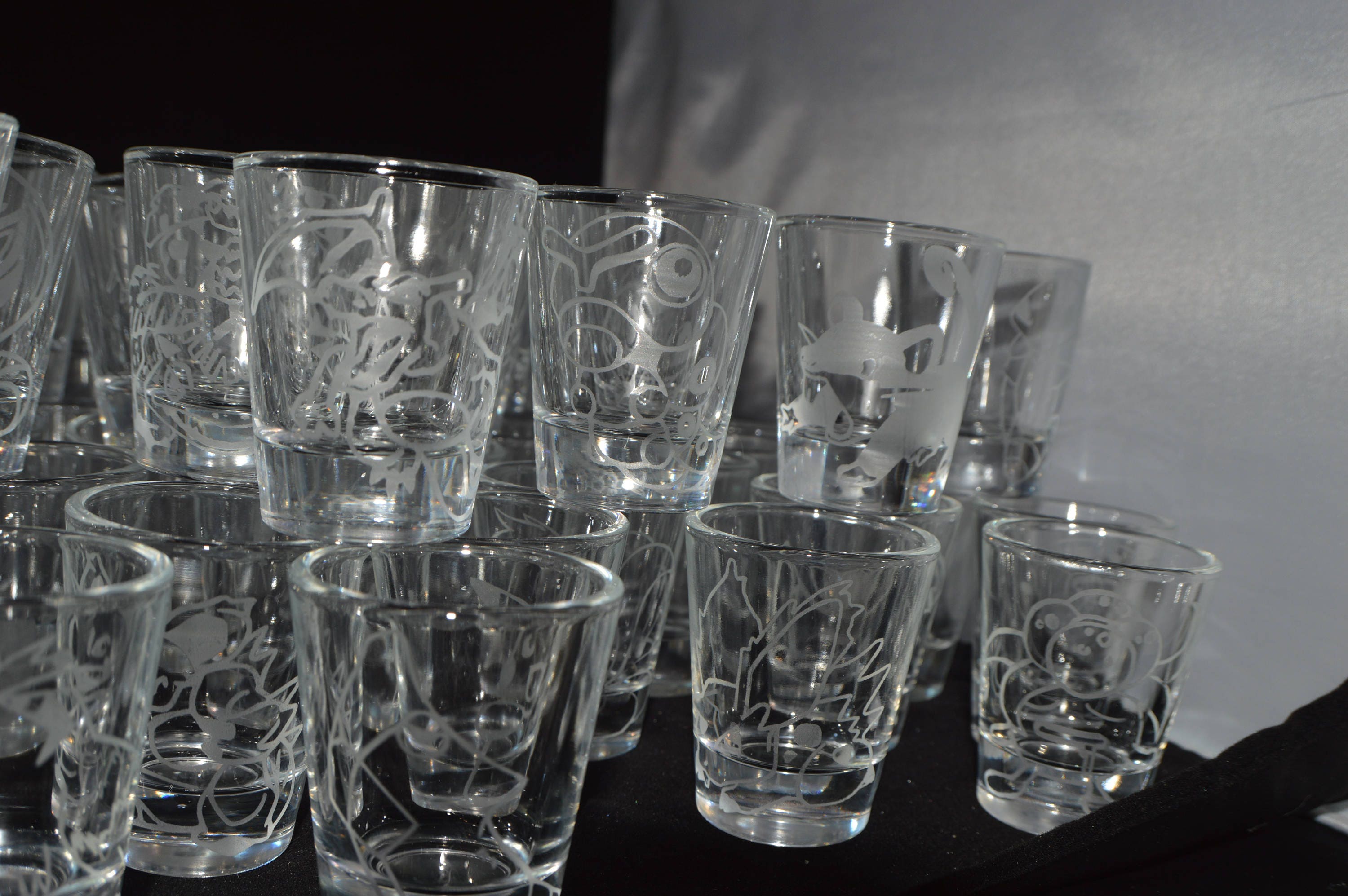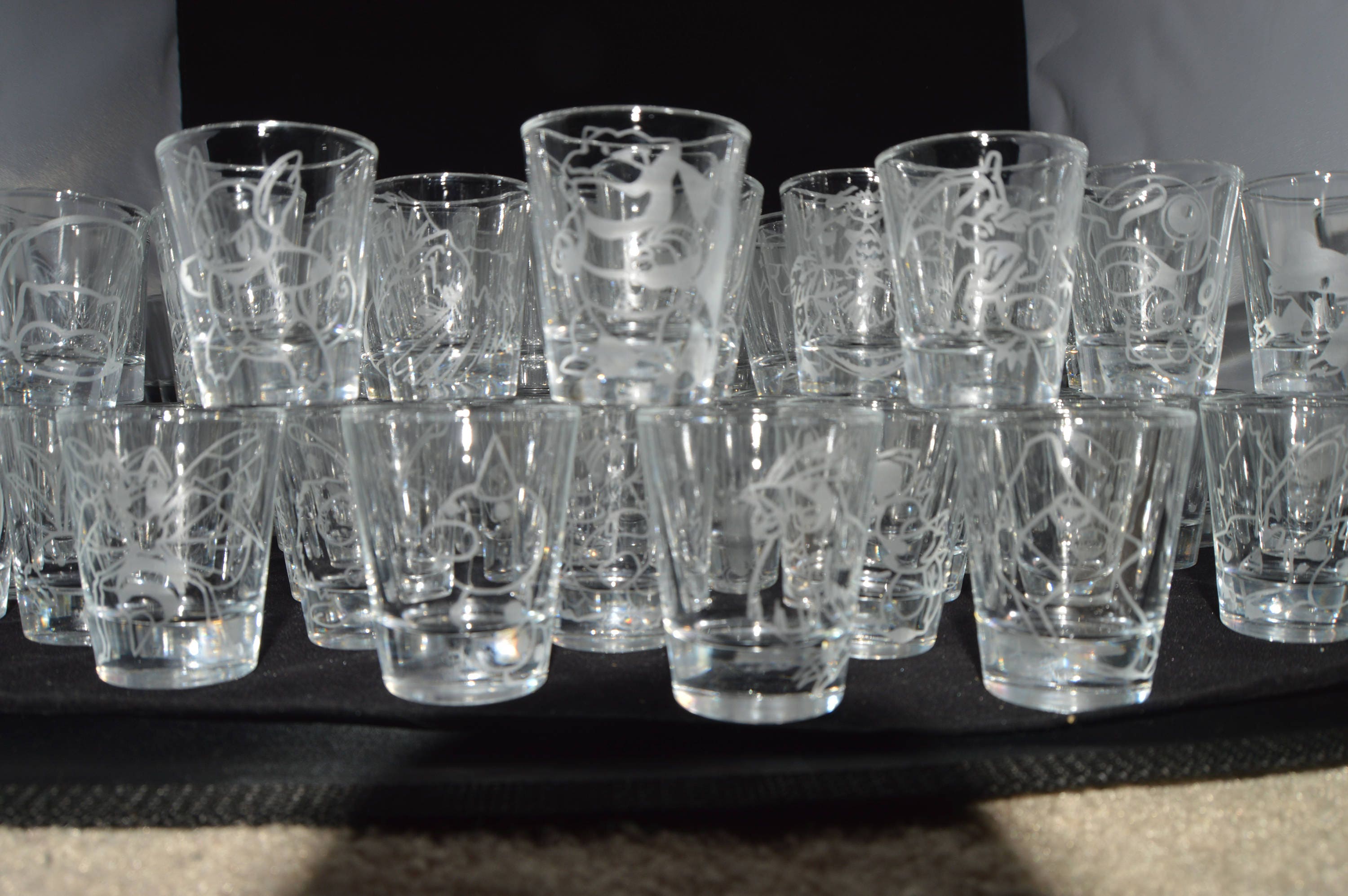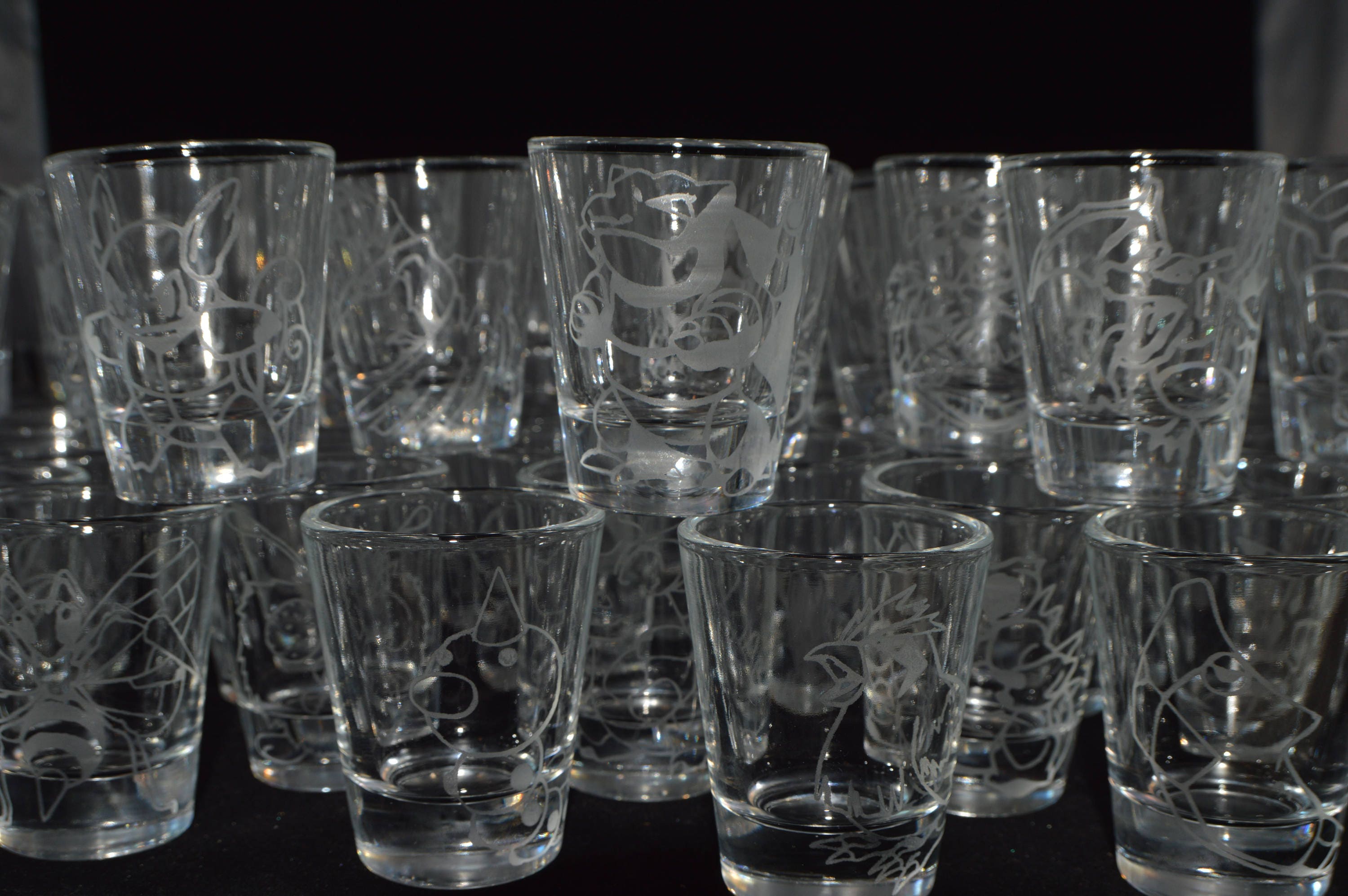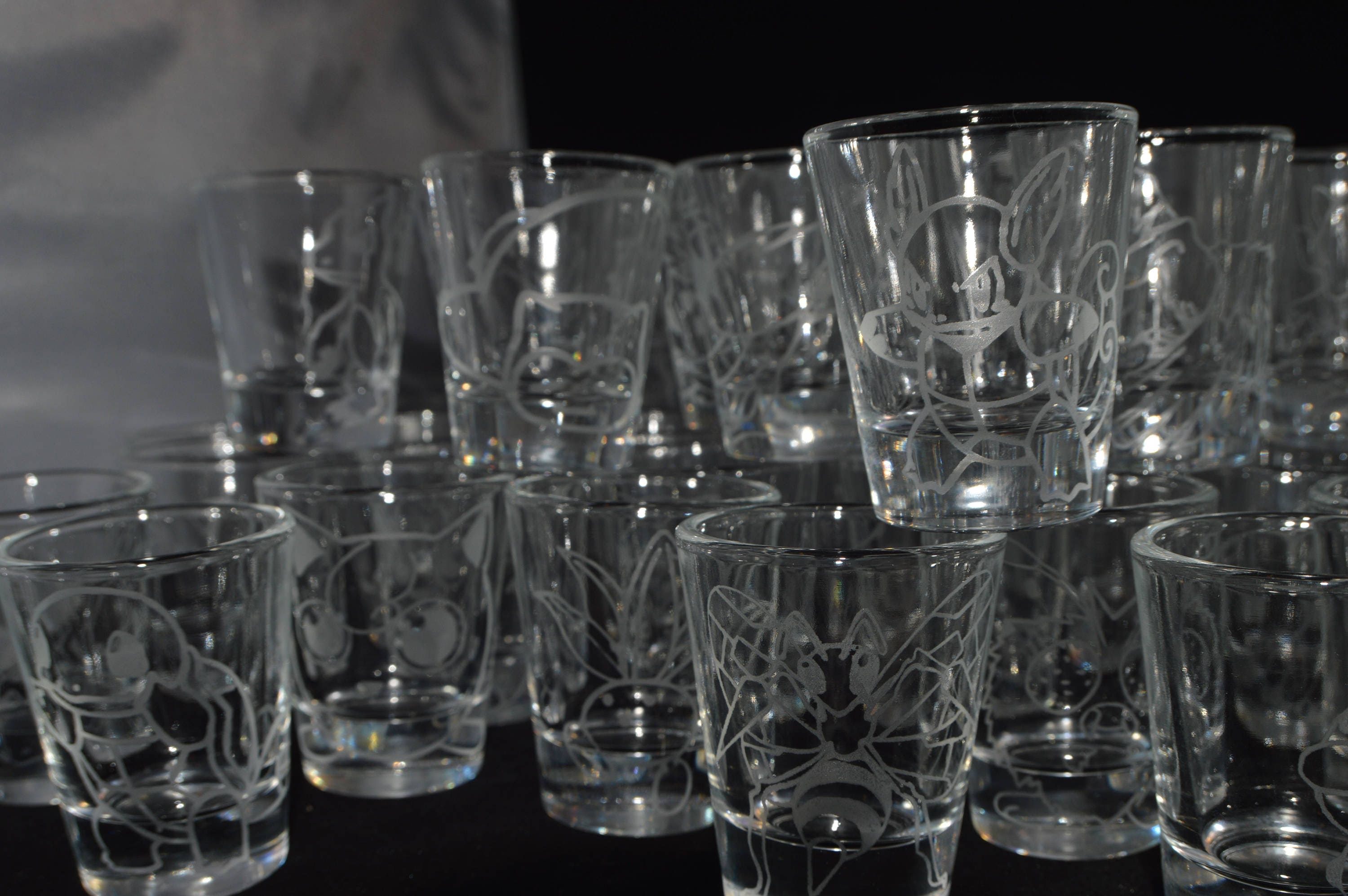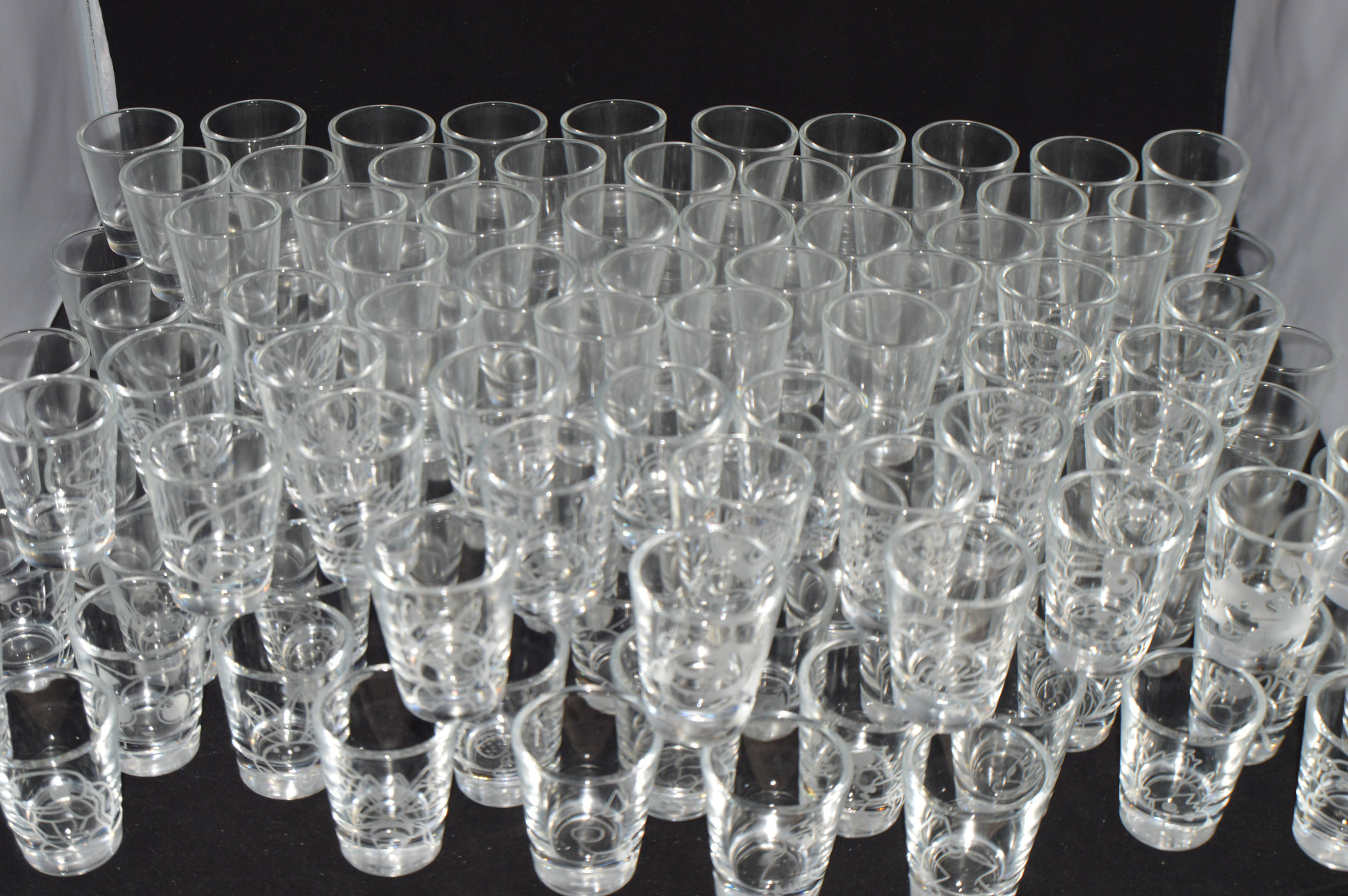 This listing is for 151 shot glasses with the first 151 pokemon engraved into the glasses. Ready to go out the door!
151 original pokemon :
Bulbasaur
Ivysaur
Venusaur
Charmander
Charmeleon
Charizard
Squirtle
Wartortle
Blastoise
Caterpie
Metapod
Butterfree
Weedle
Kakuna
Beedrill
Pidgey
Pidgeotto
Pidgeot
Rattata
Raticate
Spearow
Fearow
Ekans
Arbok
Pikachu
Raichu
Sandshrew
Sandslash
Nidoran♀
Nidorina
Nidoqueen
Nidoran♂
Nidorino
Nidoking
Clefairy
Clefable
Vulpix
Ninetales
Jigglypuff
Wigglytuff
Zubat
Golbat
Oddish
Gloom
Vileplume
Paras
Parasect
Venonat
Venomoth
Diglett
Dugtrio
Meowth
Persian
Psyduck
Golduck
Mankey
Primeape
Growlithe
Arcanine
Poliwag
Poliwhirl
Poliwrath
Abra
Kadabra
Alakazam
Machop
Machoke
Machamp
Bellsprout
Weepinbell
Victreebel
Tentacool
Tentacruel
Geodude
Graveler
Golem
Ponyta
Rapidash
Slowpoke
Slowbro
Magnemite
Magneton
Farfetch'd
Doduo
Dodrio
Seel
Dewgong
Grimer
Muk
Shellder
Cloyster
Gastly
Haunter
Gengar
Onix
Drowzee
Hypno
Krabby
Kingler
Voltorb
Electrode
Exeggcute
Exeggutor
Cubone
Marowak
Hitmonlee
Hitmonchan
Lickitung
Koffing
Weezing
Rhyhorn
Rhydon
Chansey
Tangela
Kangaskhan
Horsea
Seadra
Goldeen
Seaking
Staryu
Starmie
Mr. Mime
Scyther
Jynx
Electabuzz
Magmar
Pinsir
Tauros
Magikarp
Gyarados
Lapras
Ditto
Eevee
Vaporeon
Jolteon
Flareon
Porygon
Omanyte
Omastar
Kabuto
Kabutops
Aerodactyl
Snorlax
Articuno
Zapdos
Moltres
Dratini
Dragonair
Dragonite
Mewtwo
Mew

Perfect for any fan of pokemon! Even if they don't drink. This will give them a great start to a forced collection. If you already collect shot glasses, this will be a GREAT (big) addition to the collection!

Want some specific pokemon but not ready to buy the first collection? Well you are in luck! I also offer any pokemon you want on a shot glass! [ https://www.etsy.com/listing/195357506/pick-a-poke-any-pokemon-etched-shot ] <-- link to my listing for any pokemon on a shot glass

I also do Pub/pint glasses [ https://www.etsy.com/listing/195363934/any-pokemon-etched-pub-glass-one-pub ] <-- link to my listing for any pokemon you want on a pub glass

Buy as many as you want, I can take it ;)

PLEASE NOTE: These Glasses are CLEAR. There is NO COLOR. the color you see in the images are water and food coloring. It makes for a nicer photo.

Each Glass is etched BY HAND with meticulous care so every glass may be slightly different, we take GREAT care to keep them as consistent as possible.

These are not official merchandise. It is FAN ART.

Customization is possible, simply contact me and we can work out the details.

I also Love to do fully custom glasses! If you have a design that you made yourself or a design from a game or anything I will be happy to put it on a glass for you at no extra cost.

We offer many other glasses too, all at very reasonable prices!
Pubs, Cubes, Juice glasses, water glasses and tons more.
Payments
International buyers are responsible for their countries taxes and import duties.
I don't know your countries policies please look into this before placing an order.
Shipping from United States
I ship glass- no matter how carefully packaged breaking does happen from time to time- while no one is happy to receive a broken item in the mail I am always happy to do everything I can to make it right.
If you do open your package to find your glass got broken in transit follow these steps;
1) do not cut yourself
2) lay down some newspaper to make cleaning up small bits easier
3) snap a photo of the broken glass with the package in the background
4) message me with the photo attached
I will respond to correct the situation as fast as I can
If you live within the USA I'll offer you a replacement mailed to you at NO cost to you.
If you live outside of the USA I'll give you a refund for the glass/glasses that didn't make it, unfortunately high shipping costs make free replacements too costly to offer.


Returns & Exchanges
I gladly accept returns and exchanges
Just contact me within: 3 days of delivery
Ship items back to me within: 14 days of delivery
I don't accept cancellations
But please contact me if you have any problems with your order.
The following items can't be returned or exchanged
Because of the nature of these items, unless they arrive damaged or defective, I can't accept returns for:
Custom or personalized orders
Perishable products (like food or flowers)
Digital downloads
Intimate items (for health/hygiene reasons)
Returns and exchange details
Refund/Returns:
If for any reason you are unhappy with your glasses- simply package them back up the way they were in the box you received them in and ship them back for a full refund. I'll honor this within 48 hours of the time tracking says that the package was delivered. I think that's a fair amount of time to decide if you'd like to keep them or send them back. Refund is given for the whole amount of the glasses, but not the shipping cost paid.
Custom glasses with text or dates are not returnable, sorry.
Additional
FAQ:
Q: My glasses aren't colored! The photos you show are colored! I want my glasses replaced with colored glasses for free! I hate you and everything else in the world!
A: None of my glasses are colored unless I specifically say so- it says this in EVERY listing. The color you see is food coloring and water- is says this in EVERY listing too. Photos take better with colored glasses. I'm sorry that you didn't read the listing However all you need to do is package them back up and ship them home for a refund.

Q: My glass arrived broken, why didn't you use bubble wrap?
A: Believe it or not bubble wrap breaks the glasses more often than simple news leaf.
I've had a great deal of luck shipping with glasses wrapped in news leaf, and put in a box with a card board divider. However, don't worry you are either eligible for a replacement or a refund as well as my understanding and apologies.

Q: Why didn't my order come with a receipt?
A: More often than not my glasses are used as gifts- so to avoid sending a detailed receipt to a gift recipient I just don't send them unless you ask for one, but don't worry if you want one you can print one off right from etsy or I can mail you one, just let me know!

Q: My image disappears when it gets wet, whats the deal?
A: The image is scarred into the glass and the water fills the scar, clean the glass and dry it and you're image will be ready to display again.
Privacy
Your information will only be used to ship your order to you. Nothing more nothing less.